Godox AD300 Pro Outdoor Flash Light 300W TTL 2.4G 1/8000 HSS 0.01-1.5s with Recycling AD300Pro
 Features:
The AD300 Pro boasts all of the unique features of the Godox Wistro AD range, whilst offering a strong power output of 300Ws and maintaining its portable compact design. Unlike the AD200 / AD200 Pro, the AD300 Pro features a built in fan, allowing you to shoot for longer whilst keeping that compact, pocket-sized shell. Featuring a circular round head design much like the AD600Pro and AD400Pro, the specialised glass protected flash tube allows you to achieve the most out of the 300Ws power of the AD300Pro.
BUILT-IN GODOX 2.4G WIRELESS SYSTEM:
Fully compatible with the latest Godox 2.4Ghz X-Series triggers, the AD300Pro's built-in receiver continues the success of the user friendly X1T, X2T and XPro. Using these latest Godox X-Series of triggers, the AD300Pro allows full TTL and HSS remote power control up to 100m (~300ft) away. It can fully support Canon E-TTL, Nikon i-TTL, Sony TTL, Fuji TTL and Olympus TTL systems.
RECHARGABLE LITHIUM-ION BATTERY:
The AD300 Pro comes with an advanced lithium-ion battery that has been designed for performance, making it more reliable than ever when shooting on location. The battery is loaded into the underside of the unit to keep it super compact due to its small size, whilst still offering a recycle time of just 0.01-1.5s with up to approximately 320 full power flashes. The AD300 Pro battery is completely interchangeable, allowing one to be on charge whilst the other is firing away.
TTL AND HSS COMPATIBILITY:
Fully Supporting TTL auto flash, Flash Exposure Compensation, First Curtain Sync, Second Curtain Sync, Manual Flash, Multi Flash etc. The AD300 Pro works with multiple camera brands and various accessories using the appropriate adapter. The AD300 Pro allows High Speed Shooting of up to 1/8000th of a second, allowing you to catch that perfect action through beautiful crisp images with perfect lighting.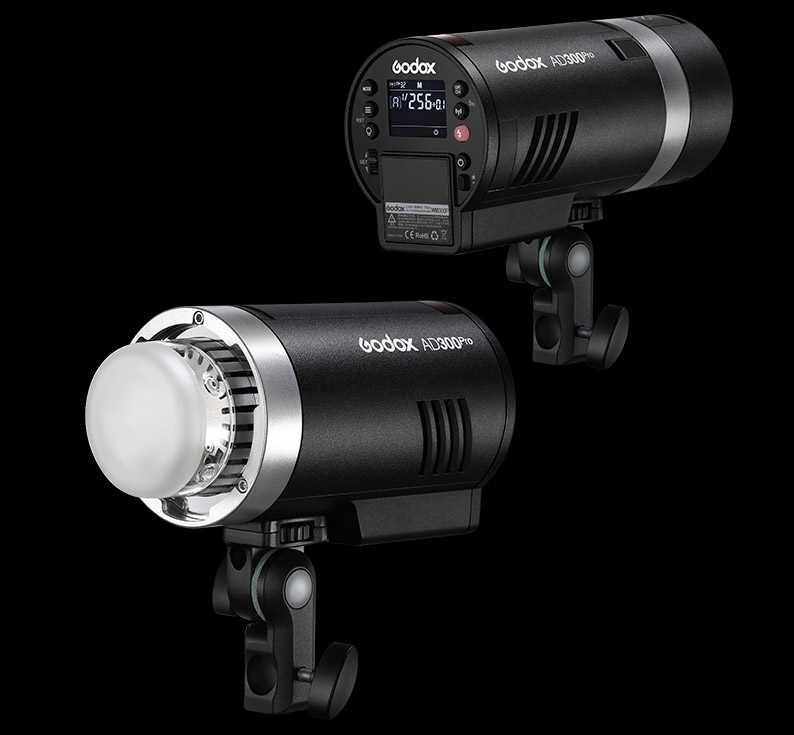 SPECIFICATION:
BRAND: Godox
MODEL: AD300 Pro
POWER: 300Ws
RECYCLE TIME: Approximately 0.01-1.5s
FLASH DURATION: 1/220 to 1/111 10 Seconds
POWER OUTPUT: 9 Steps 1/256-1/1 in 1/10th increments
STROBOSCOPIC FLASH: Provided (up to 90 times, 99Hz)
FLASH EXPOSURE COMPENSATION: FEB +3 stops in 1/3 stop increments
SYNC MODE: High speed sync (up to 1/8000 seconds), first-curtain sync, and second curtain sync
DELAY FLASH: 0.01-30 Seconds
MASK: Yes
BEEPER: Yes
MODELLING LAMP: 10W LED Bi-Colour, Colour Temperature 3000-6000K; Light Brightness 1 to 10 levels
OPTIC SLAVE FLASH: S1/S2
FLASH DURATION INDICATION: Yes
WIRELESS FLASH FUNCTION: Slave, Off
CONTROLLABLE SLAVE GROUPS: 5 (A,B,C,D and E)
TRANSMISSION RANGE: 100m
CHANNELS: 32 (1-32)
ID: 01-99
POWER SUPPLY: Lithium Battery Pack (14.4V/2600mAh)
FULL POWER FLASHES: Approximately 320
FLASH MODES: TTL / M / Multi
BATTERY INDICATOR: Yes
POWER INDICATION: Power standby automatically after 30 minutes of idle operation
SYNC TRIGGERING MODE: 3.5mm sync line, wireless control port
COLOUR TEMPERATURE: 5600±100k
STABLE COLOUR TEMPERATURE: Change within ±100k over the entire power range in colour temperature mode
DIMENSIONS: 190 x 98 x 97mm
WEIGHT: 1.4Kg