Zoom H1 Handy Portable Digital Recorder (Black)
Features:
X/Y Stereo Mic
Records WAV and MP3 up to 24-bit/96 kHz
Records to microSD/SDHC
3.5mm I/O
High-Speed USB 2.0 Connectivity
Backlit LCD Display
Built-In Speaker
Uses 1 AA Battery
Threaded Tripod Mount Socket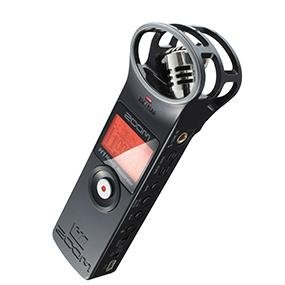 In the box
The H1 comes with everything you need to capture audio wherever you go.
2GB microSD card
1 x AA battery
Steinberg WaveLab LE software
Operation manual
The Zoom H1 Handy Recorder
Good things come in small packages
The ultra-compact H1 is tiny enough to be slipped into your pocket, yet it delivers big sound. It's perfect for capturing song ideas and documenting lectures and meetings—a whole lot faster and easier than taking notes!
With its built-in stereo X/Y microphone, Auto Level control, and low cut filter, the H1 is also ideal for recording interviews, live concerts, and band rehearsals.
Lightweight and ultra-compact
Built-in 90˚ X/Y stereo microphone
Records directly to microSD and microSDHC cards up to 32GB
Supports up to 24-bit/96kHz WAV audio, as well as a variety of MP3 formats
Stereo Mic/Line Input jack with Plug-in power
Monitoring speaker and stereo Phones/Line Output jack with dedicated volume control
Requires just a single AA alkaline or NiMH rechargeable battery, with up to 10 hours of battery life

Take it everywhere
Smaller than most cell phones and weighing in at just two ounces, you can take the ultra-portable H1 wherever you go—live concerts and band rehearsals, location video shoots, lectures and meetings.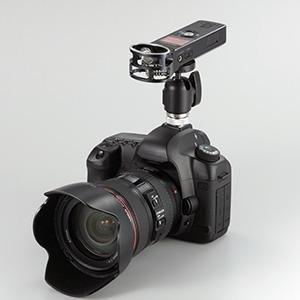 Recording made simple
The H1's built-in X/Y microphone provides two matched unidirectional microphones set at a 90 degree angle relative to one another. The X/Y technique provides a great way to cover a wide area while still capturing sound sources in the center with clarity and definition, making it perfect for all types of live stereo recording.
Alternatively, you can connect a pair of external microphones or line level signal to the H1's Mic/Line Input mini phone jack for other types of stereo recording.
In addition, there's a Line/Headphones Output with a dedicated volume control so you can plug in headphones or interconnect the H1 with other equipment such as a DSLR. There's even a built-in speaker for fast monophonic monitoring of the recorded signal without the need to make any connections.

Also a USB microphone
When you're ready to take your recordings to the next level, simply connect the H1 to your computer via USB and launch your favorite editing software, such as the supplied WaveLab LE. The H1 can even be used as a 2-in/2-out audio interface or USB microphone.