Rode TX-BELT Beltpack Wireless Transmitter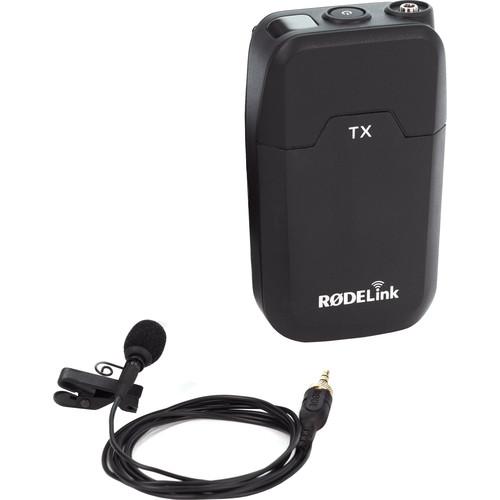 The Rode TX-BELT is a beltpack wireless transmitter designed to provide easy and secure transmission of wireless audio for videographers, filmmakers, and electronic news gatherers. It works with RODELink digital wireless systems and can be powered via two AA batteries or a micro-USB connection.
An internal antenna contributes to the compactness of the TX-BELT. It can be attached to a belt, strap, or clothing via the belt clip. The bottom panel slides down for access to the gain switch, which has positions for 0 dB, +10 dB, and +20 dB. Current channel selection is indicated on a large display by the dedicated power button. The 3.5mm TRS input features a locking jack socket to prevent accidental disconnection. The TX-BELT ships with a lavalier microphone and a captive TRS cable.
Designed for use with RODELink digital wireless systems.
Belt clip allows quick attachment to a belt or clothing.
Selectable 0 dB, +10 dB, or +20 dB gain via switch beneath the slide-down bottom panel.
Large indicator for channel selection.
Input connection utilizes a 3.5mm TRS locking jack socket.
Powered via two AA batteries or micro-USB connection