Amazon Echo Plus with Built in Hub - Black 2017
Features:
Echo Plus is a simple way to start your smart home. It has a built-in ZigBee smart home hub, which allows for simple and direct setup of compatible ZigBee lights, locks, plugs, and in-wall switches from brands like Philips Hue, GE, and Yale. No additional hub required.

Echo Plus connects to Alexa—a cloud-based voice service—to play music, make calls, set timers and alarms, ask questions, check traffic and weather, and more—instantly.

Just ask for a song, artist, or genre from Amazon Music, Spotify, Pandora, and more. With multi-room music, you can play music on your Echo devices in different rooms. Echo Plus can also play audiobooks, radio stations, news briefs, and more.

Call or message almost anyone hands-free with your Echo device. Also, instantly connect to other Echo devices in your home using just your voice.

Improved speakers with Dolby processing deliver crisp vocals and extended bass to fill the room with immersive, 360° audio

With seven microphones, beamforming technology, and noise cancellation, Echo hears you from any direction—even while music is playing

Alexa is always getting smarter and adding new features and skills. Just ask Alexa to control your TV, request an Uber, order a pizza, and more.
Echo Plus is a hands-free speaker you control with your voice, with a built-in smart home hub. It connects to the Alexa Voice Service to play music, ask questions, make calls, provide information, news, sports scores, weather, and more—instantly. All you have to do is ask.
Echo Plus has 360° room-filling sound powered by Dolby, and can hear you from across the room from any direction. It is always getting smarter as Alexa continues to add additional features. With a built-in smart home hub and simple setup for compatible connected devices, starting your smart home or integrating into your existing system is now easier than ever.
The simple way to start your smart home
Echo Plus has a built-in hub that seamlessly connects and controls compatible smart devices such as light bulbs, door locks, switches, and plugs. Setting up new smart home devices with Alexa is easy. Just say "Alexa, discover my devices" and Echo Plus will discover and set up compatible smart home devices.
Switch on the lamp before getting out of bed or turn on the coffee maker without lifting a finger. Control multiple devices at scheduled times or with a single voice command, like locking the doors and turning off the lights when you go to bed. Simple setup works with a variety of ZigBee lights, locks, and plugs from leading brands such as Philips Hue, GE, Kwikset, and more.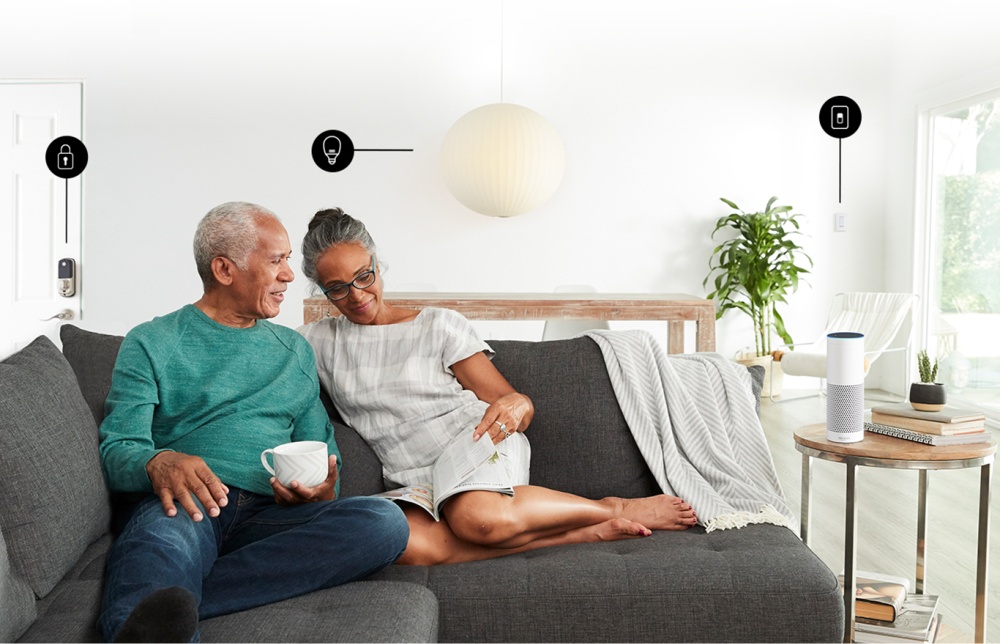 Like other Echo devices, Echo Plus can connect to other Wi-Fi and Bluetooth smart home devices with the Alexa app. Control lights, outlets, TVs, thermostats, and more from WeMo, TP-Link, Sony, Insteon, ecobee, and others. 

With a 2.5" downward-firing woofer and 0.8" tweeter powered by Dolby, Echo Plus has crisp highs, deep bass, and 360° audio to fill your room with music. Play from Amazon Music, Spotify, Pandora, iHeartRadio, TuneIn, and more. You can also listen to audiobooks from Audible, podcasts, radio stations, news briefs, and more.
Want to play music on an Echo in another room? Now with multi-room music, you can tell Alexa to play across your compatible Echo devices. Tell Alexa to play jazz in the office, soundtracks in the family room, or play the same song across your whole house. Learn more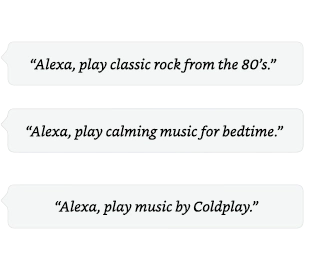 With Echo Plus, you can talk to almost anyone hands-free—no tapping or searching required. Your contacts will see your number when they receive the call so they know who is calling. Set up your voice profile and teach Alexa to recognize your voice. When you say, "Alexa, call Mom", Alexa will call your mom, even if you have multiple users in your home. Additionally, you can send messages via voice or text to anyone with a supported Echo device or the Alexa App. 

With the Drop In feature enabled for room-to-room calling, instantly connect with compatible Echo devices in your home. Let your household know when dinner is ready, ask someone for help with a chore, or remind the kids to go to sleep—without having to raise your voice.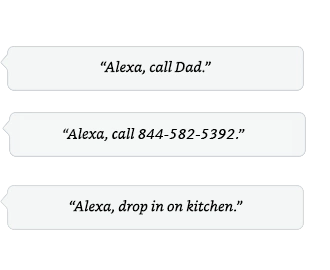 Tucked under the light ring is an array of seven microphones that use beamforming technology and enhanced noise cancellation. Echo Plus has improved wake-word performance to hear you ask a question from any direction—even in noisy environments or while playing music at loud volumes.
When you want to use Echo Plus, simply say the wake word, "Alexa," and Echo Plus lights up and connects to the cloud, where the Alexa Voice Service recognizes and responds to your request instantly. Learn more about voice recognition on Echo.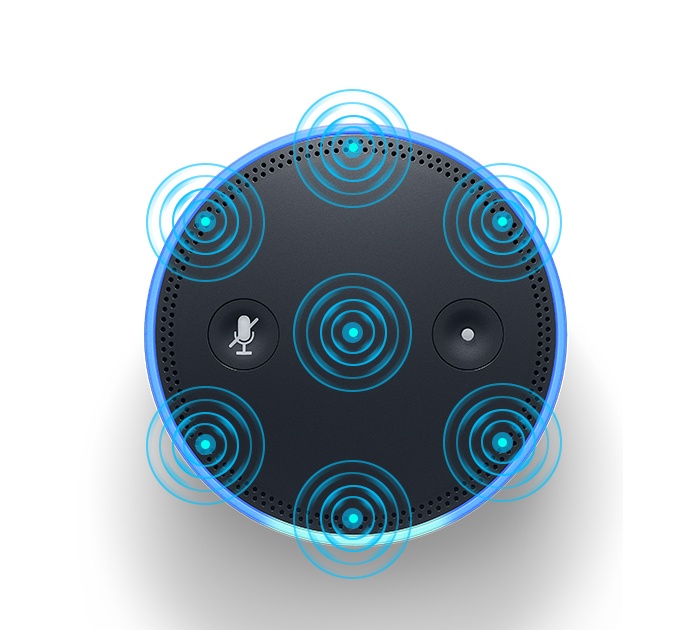 Echo Plus uses tens of thousands of skills and counting. Ask about your daily commute, control your Sony smart TV, play Jeopardy!, check your account balance with American Express, and more. To enable a new skill, just ask Alexa.
New skills are being added all the time. You can also see ratings and reviews to learn what other customers are saying about the skills available in the Alexa App. 


Get even more from Echo Plus with Prime and enjoy ad-free streaming of over 2 million songs with Prime Music.
You can also order millions of products using only your voice and gain access to weekly Alexa shopping deals. All voice orders include fast, free shipping, and Alexa can even track your delivery for you. Learn more.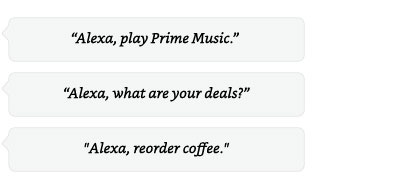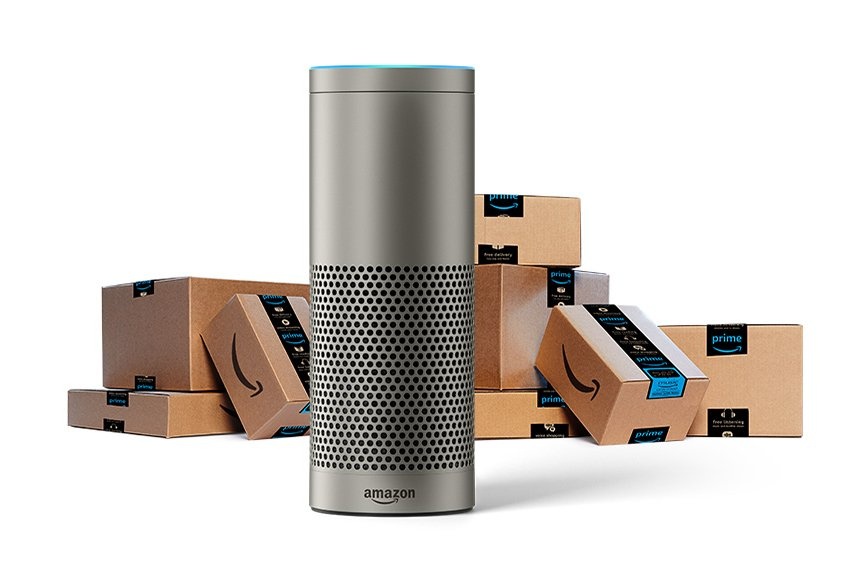 Alexa is always getting smarter—the more you use Echo, the more Alexa adapts to your speech patterns, vocabulary, and personal preferences. And because Echo is always connected, updates are delivered automatically.
Just in the last few months we've added Alexa calling and messaging, multi-room music, voice profiles, and reminders, along with skills from third-party developers.