FUJIFILM X-Pro3 Mirrorless Digital Camera (Body Only)
Features:
Advanced Hybrid multi viewfinder: optical Viewfinder (ovf) uses a 0. 5x magnification and parallax-correcting frame lines to provide an uninterrupted and true-to-life view of what's in front of you. Additionally, the 3. 69M-dot OLED electronic viewfinder (EVF) offers a fast and high-quality representation of exactly how your image will look.
X-trans CMOS 4 sensor and X-Processor 4 combination. This exceptional 26. 1MP sensor uses a back-illuminated design to maximize quality and dynamic range, while its unique color filter array controls Moiré and false color without the need for an optical low pass filter.
X-Pro3's timeless body design features a top and base plate constructed from titanium, which, despite being little more than half the density of stainless steel, is seven-times more durable. In addition to classic black, the weather-sealed X-Pro3 is also available in silver and charcoal colors, which utilize cold plasma technology for a scratch-resistant finish.
16 digital Film Simulation modes. This cutting-edge technology allows photographers to achieve stunning results straight out of camera and X-Pro3 introduces two exciting new additions to the collection: CLASSIC Neg. and MONOCHROMATIC Color.
Every aspect of x-pro3 has been designed for photographers who like to live in the moment, but none more So than its hidden 1. 62M-dot tilting LCD Touchscreen. When closed, All that can be viewed is a Mini-Display showing essential settings, removing the distraction of a full screen while shooting. With your mind and your eye always on the scene in front of you rather than the scene YOU'VE just shot, you can find a better connection not just with your subject, but also with your art.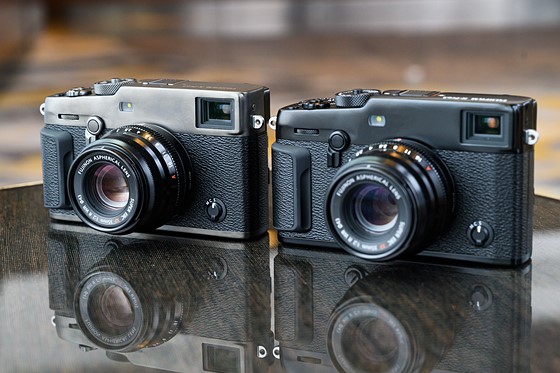 Something different is here. This camera turns anticipation into reality. The texture of titanium stimulates your senses, while the unique viewfinder prompts discovery and creativity. It brings back the desire to interact with the world through a camera, while attaining an understanding to record it as your own for eternity. The X-Pro3 is the definition of pure photography.
The X-Pro3 design means you can keep your eyes focussed on the subject while your fingers access the various buttons and dials to ensure that you never miss a perfect photo opportunity. This is the ultimate design for analog camera operation.
The hidden LCD encourages a more traditional shooting style, asking photographers to concentrate on composing using the viewfinder. Of course, you can flip open the screen to check your images between shooting sessions, but in essence, the X-Pro3 wants you to trust your instincts as a photographer and shoot without the distraction of checking every image. The LCD screen helps you to adjust the settings and find what needs to be improved, ready for next time.
The LCD screen has an anti-reflective coating, a wide angle of view, and is able to display images with high contrast and natural colors, ideal for reviewing or composing images in bright daylight or low light.
Digitally representation of film based visual effects are something only allowed for iconic photographic equipment. The visual effects appeal to users' emotions and inspire imagination. The use of Memory LCD means users can easily see the settings for Film Simulation, white balance, etc. when the camera is turned off or on.